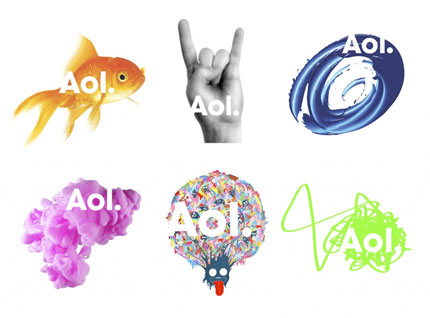 Parece que a AOL resolveu arriscar de verdade com a criação desse novo logo. Eles contrataram a Wolff Olins, que já criou logos controversos como o da Wacom e das Olimpiadas de 2012 em Londres, e o CEO da AOL disse isso quanto ao que eles criaram.
The new AOL brand identity is a simple, confident logotype, revealed by ever-changing images. It's one consistent logo with countless ways to reveal. The new brand identity will be fully unveiled on December 10, when AOL common stock begins trading on the New York Stock Exchange.

Our new identity is uniquely dynamic. Our business is focused on creating world-class experiences for consumers and AOL is centered on creative and talented people – employees, partners, and advertisers. We have a clear strategy that we are passionate about and we plan on standing behind the AOL brand as we take the company into the next decade.
O texto acima serve como referência do que o marketing usa como argumentos para defender um logo estranho, sem referência e força visual mas que vem com um enorme apoio de marketing. Afinal, quando você afirma que uma marca é dinâmica e única e depois me apresenta uma séria de imagens removidas de algum site de stock fotos com um nome por cima, isso não quer dizer que você criou uma marca única.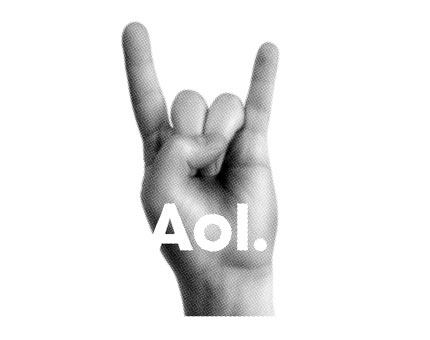 Eu vejo esse logo como uma bizarra tentativa de renovar uma marca que já teve seus dias de glória e que agora usa de imagens estranhas para passar um dinamismo e originalidade que não refletem aquilo que a marca é ou que ela representa.
Agora só falta esperar a campanha de lançamento dessa nova marca para vermos o quanto que será gasto para tentar mudar a percepção do mundo. E você, o que acha do novo logo?
New AOL logo | Logo Design Love.
Comentários
Powered by Facebook Comments

Tagged: aol, identidade visual, logo, redesign