Kitten é o nome dessa fonte inspirada pela estética da pintura de placas e sinais e que, como você pode imaginar, tem um visual inspirado pelas curvas e movimentos dos gatos. Suas ligaturas, variações visuais e formas alternativas foram criadas pelo designer Cosimo Lorenzo Pancini e, além disso, os dingbats de gatos foram criação de Isabella Ahmadzadeh.
Essa fonte gratuita vem com curvas e formas fortes que tornam essa fonte perfeita para ser usada para a criação de identidades visuais e logos. Além de ser uma ótima fonte display, sua versão monoline é perfeita para textos mais longos como você poderá ver logo abaixo.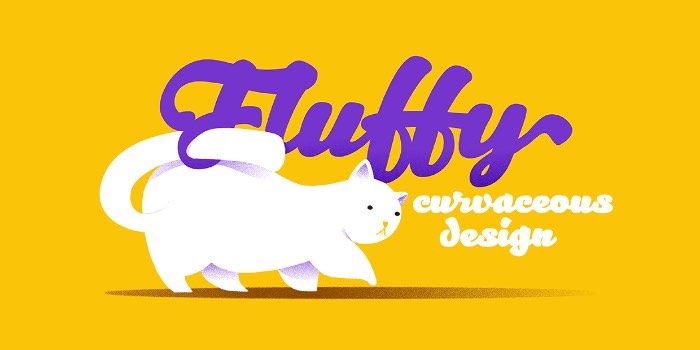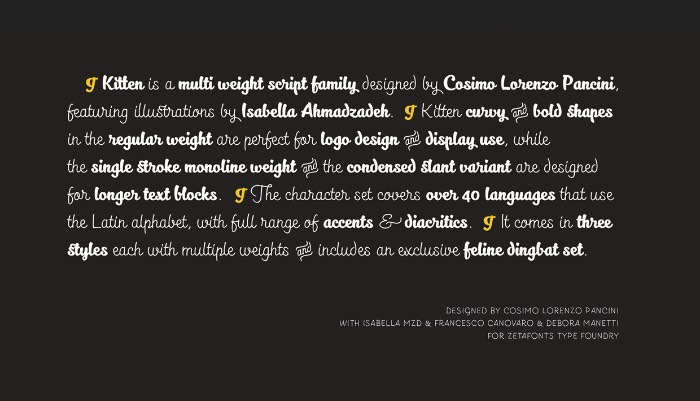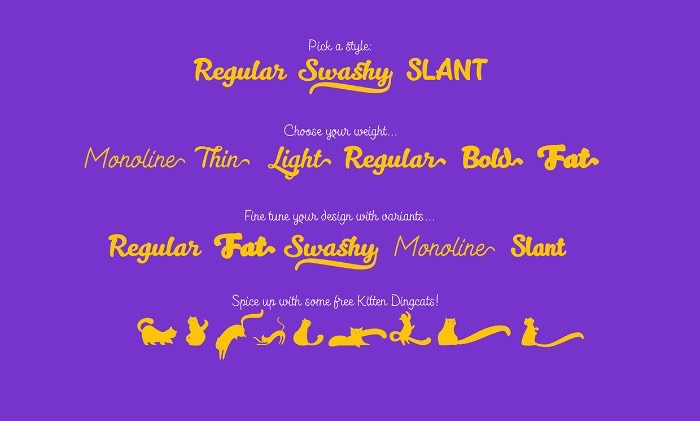 Kitten is a multi weight script family with a signpainter aestethic and a wide range of variants, alternates and ligatures designed by Cosimo Lorenzo Pancini, with cat dingbats designed by Isabella Ahmadzadeh. Kitten curvy, bold shapes in the regular weight are perfect for logo design and display use, while the clean lighter weights, as well as the Monoline and the condensed Slant variant, are perfect for longer text blocks.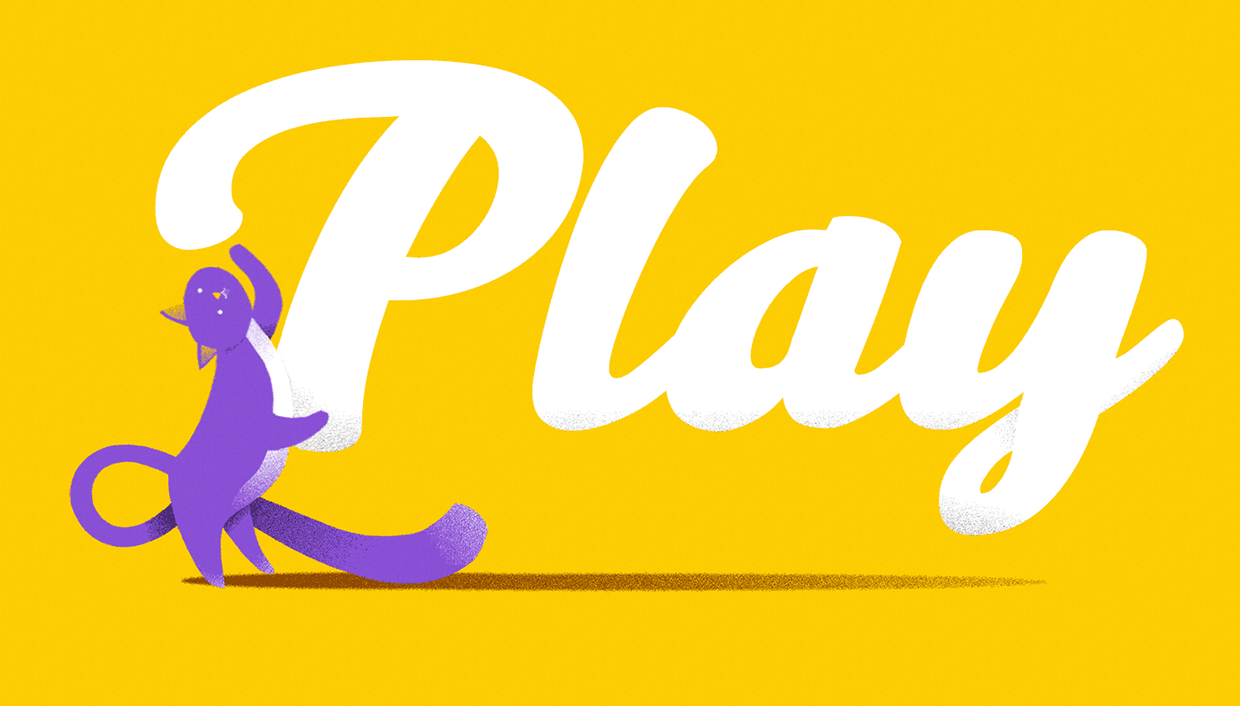 Kitten covers over 40 languages that use the Latin alphabet, with a full range of accents and diacritics. It comes in five weights and has three style variants: Regular, Slant and Swash. Kitten makes full use of Open Type ligatures to avoid letter clashes in uppercase and provide alternates and a wide array of ligature characters for a more handmade, natural look. Swashes can be accessed through glyph palette or by typing one to six underscores after the letter. A space followed by one to eight underscores produces different cat silhouettes.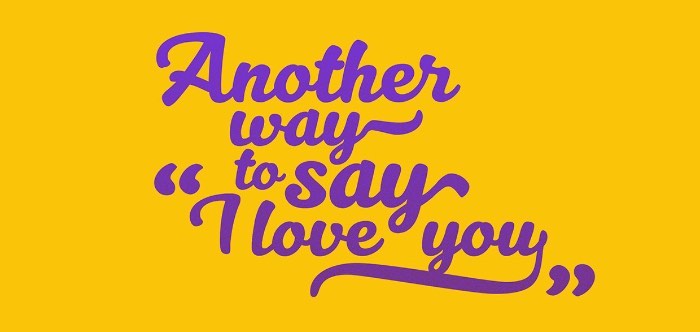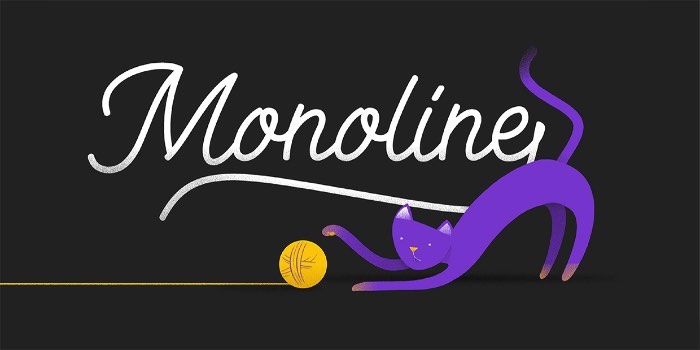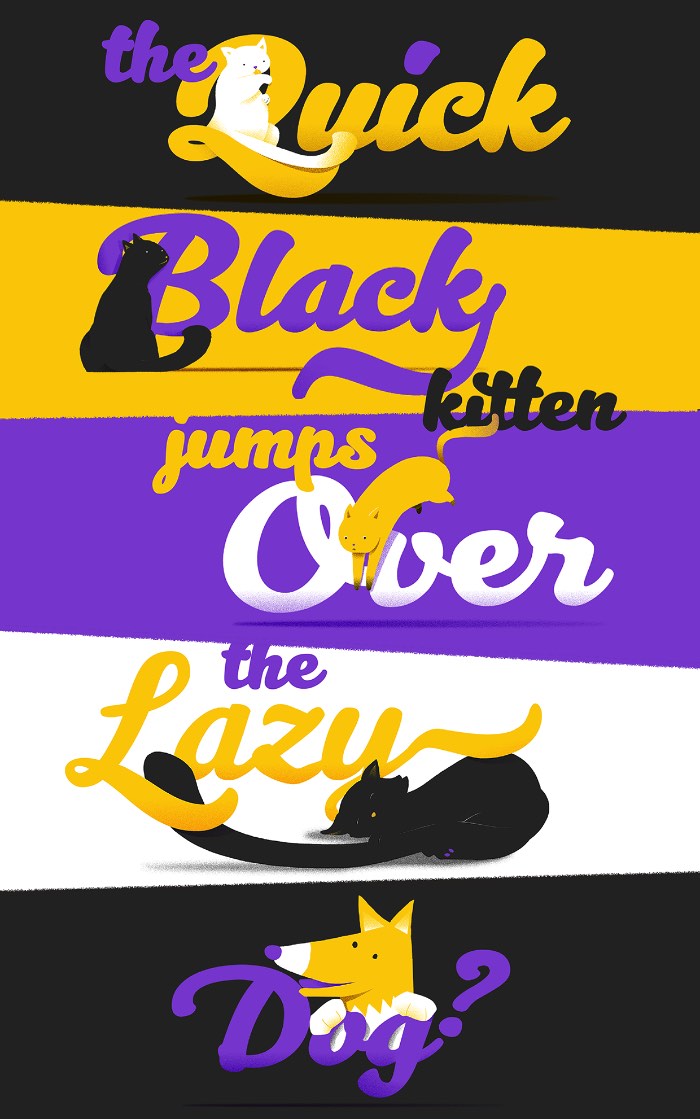 Kitten foi desenvolvida para ser usada por mais de 40 línguas que usam o alfabeto latino que conhecemos tão bem. Por isso mesmo que ela vem com todos os acentos e outros detalhes que utilizamos no dia a dia. Kitten também vem com 5 pesos diferentes e em 3 variações de estilo: Regular, Slant e Swash. Para saber mais sobre essa ótima família tipográfica, clique no link logo abaixo.
Se você anda procurando por mais fontes gratuitas, clique aqui para ver outros posts tipográficos.
---
Se você gostou do que viu aqui, você deveria seguir o blog no twitter, acompanhar nosso tumblr ou seguir a revista digital do Pristina.org no Flipboard. Além disso, ainda temos nossa newsletter quase semanal.
Comentários
Powered by Facebook Comments

Tagged: behance, Cosimo Lorenzo Pancini, Download, favoritos, fonte gratis, Fonte Gratuita, Fonte Gratuita da Semana, Isabella Ahmadzadeh, Itália, portfolio, Tipografia