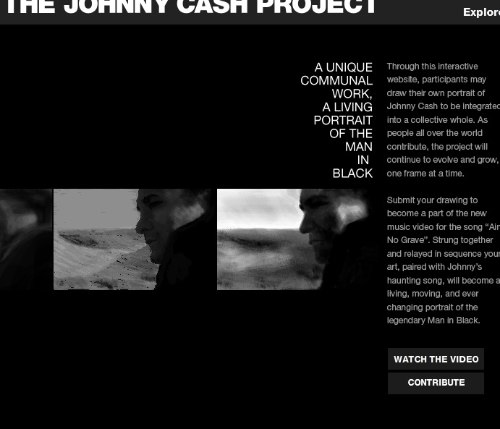 Eu sei que você só conheceu Johnny Cash quando ele lançou aquela versão de Hurt, que é um cover do Nine Inch Nails – espero que saiba disso. Ou tu conheceu a música do cara quando lançaram o filme dele? Não sei e não me importo mas…
Sei que você vai gostar desse projeto experimental sobre o grande deus do country. Saiba mais logo abaixo.
The Johnny Cash Project is a global collective art project, and we would love for you to participate. Through this website, we invite you to share your vision of Johnny Cash, as he lives on in your mind's eye. Working with a single image as a template, and using a custom drawing tool, you'll create a unique and personal portrait of Johnny. Your work will then be combined with art from participants around the world, and integrated into a collective whole: a music video for "Ain't No Grave", rising from a sea of one-of-a-kind portraits.