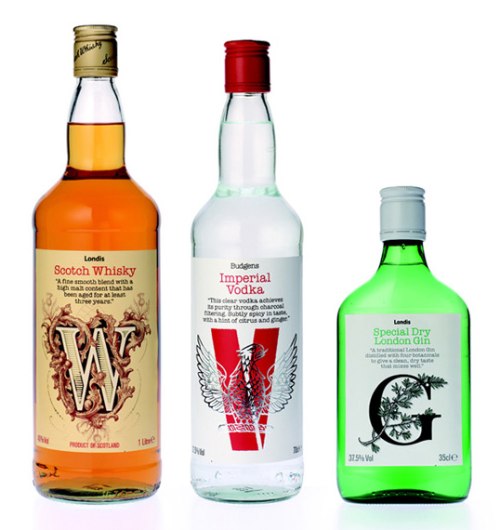 Harry Pearce and his team have been commissioned to redesign the complete own brand range for Budgens and Londis stores.

The own brand range has three levels, Good, Better, and Best, and many of the redesigned Good Value range have already hit the shelves with Pentagram's designs for Good Value Jaffa Cakes and Good Value Assorted Crisps winning the Quality Food Awards 2009.

Now the first three varieties in the wines, beers and spirits range of Better products have been released with three sizes of bottle for the own brand whisky, gin and vodka. Each label takes a typographic approach with an individual letterform being adapted to capture the essence of the spirit inside. So the V of the vodka has a strong red constructivist feel with a silver foiled eagle set against it, the W of the whisky is foiled in gold against a faint thistle and the G of the gin is interlaced with a juniper branch replete with berries.

The text on each label adopts the same layout, which extends across all of Musgraves' own brand products. It is expected that the whole redesign will take a year to roll out.
via Budgens.